A 'Secret Garden' was spread out at a scene that was very cryptic, in a real sense. Concealed profound inside the back streets of Karachi's Old Clifton region, the Spring/Summer 2021 version of Fashion Pakistan Week (FPW) was a selective issue.
The group was restricted and the show occurred out in the open with an end goal to decrease the danger of contamination from the Covid. It was, maybe, the most limited scale FPW that I had at any point joined in — and I have gone to many!
Style Pakistan Council Chairperson Maheen Khan had attested that with an end goal to contain the group, she would just be welcoming appropriate individuals — the media, key committee individuals and planners that were displaying — accordingly shunning supports and their families, originators who were not taking an interest, and irregular socialites with a propensity for going to design shows.
It seemed well and good. Putting together design week in Covid times is interesting enough without the weight of dealing with a colossal, blundering swarm who, coincidentally, for the most part need to be situated in the first column.
A tree stood enlightened in the catwalk. Very moderate and very tasteful. It was one of the fundamental things I adored about the main day of FPW.
There was significantly more to cherish, however. The show began on schedule, which is an uncommon event at neighborhood design weeks. The speed was smart with seven fashioners exhibiting their assortments and the late evening arriving at end by a quiet 9pm! Adnan Ansari, the show's chief, must be given kudos for this.
The pool of models was totally new with barely any recognizable appearances that are generally seen on the catwalk. While some of them mishandled, there were a not many that showed potential, and given the correct chances, could construct fruitful professions.
Large numbers of the architects who displayed were additionally new to the catwalk and keeping in mind that the consistent drive to make retail-accommodating assortments makes things a digit exhausting, there were some who stuck out. Some tweaking to a great extent, a touch of experimentation, and certain marks could acquire strength throughout the following not many years.
Indeed, if the main day of FPW this year will be associated with anything, it will be for a portion of the new brands that appeared on to its catwalk…
Also Read: Mehndi Design Ideas in 2021
Umsha by Uzma Babar:
Outline by Umsha by Uzma Babar came coasting out in layers of trim and chiffon, worked with silver sequins and creases and finished off by bizarre botanical headgear. The architect as of late exhibited a lovely assortment of wedding wear at Bridal Couture Week in Lahore and it was unbelievable why her plan sensibilities had wavered such a huge amount on the FPW catwalk.
The cosmetics — unblended and unflattering — didn't help the assortment. Nor did the fitting, which appeared to have had been neglected more often than not.
Umsha by Uzma Babar could truly have improved. Indeed, even the exceptionally beautiful gem, entertainer Amar Khan, couldn't save this assortment.
Kalah By Mubashra:
A portion of the plans shone. Swans glided along the hemline and large lotuses were scattered between glimmering sequins and mirror work. Kalah by Mubashra's 'Lotus Pond' was pretty except for a couple of outfits. Some could have — ought to have — fitted better and some shouldn't have been essential for the setup.
For a presentation, it was to some degree great. Had there been a more noteworthy variety in outline and fresher colourways, it might have been something more. Originator Mubashra Najam needs to circle back to a seriously remarkable setup next season to make a character for herself. Pretty assortments are engaging yet just particular plan can set up a brand for the long stretch.
Diner's:
Diner's specific interpretation of men's fitting and Eastern-wear potentially sells well in their retail locations. However, how should the brand conceivably grandstand a similar garments on the catwalk at a design week? A progression of seriously fitted, unsatisfying suits were trailed by similarly unremarkable kurtas matched with petticoats.
The way to incredible menswear lies in the fitting. Diner's, tragically, passed up this. I recommend that the brand places more prominent spotlight on fitting in the event that it desires to turn into a style week ordinary.
You can search more updates with our Facebook Page.
Sadaf Malaterre:
The saris emerged ready to take care of business, a dark skirt streamed out in layers and model Fayezah Ansari's skirt was a sensational development in net. Sadaf Malaterre's The Flow likewise denoted the presentation of her menswear line which comprised completely of fresh white shirts matched with pants or pants with '#No Dog Culling' composed on the back.
The creator has consistently had a boho, simple stylish and this was apparent in her most recent line. Notwithstanding, in contrast to past assortments by Sadaf Malaterre, there were no genuinely exceptional minutes in her feature, no occurrence that caused you to sit up and say 'goodness'.
It was all around developed — yet from an architect with many years of involvement, one expects a lot more.
Aleena and Fareena:
F
ledgling brand Aleena and Fareena struggled a bit initially with fittings before going all out with a collection that had many quirky elements to it. I particularly enjoyed the capes and jackets, following a timeless palette of black and gold, worked with metal rivets and sequins swirling beautifully.
The monochromatic black and white dresses were also interesting, as were the applique and frill detailings curling across the shoulder blades and hem.
Young and fun, making a statement while still being wearable, the collection was a good one. However, to truly make waves on the catwalk, the brand should have made a greater effort to move beyond retail-friendly design. It makes one look forward to seeing how this brand grows with its next fashion week showcase.
Tabassum Mughal:
clectic Regalia was inspired, according to the press release, by the courts of Europe and the Subcontinent and truly, Tabassum Mughal must have been thinking of royalty when she created the collection.
The models wore dainty crowns and the colour palette traversed jeweled hues: a rich maroon, emerald green, gold and a deep vermilion. There was embroidery in gilded gold and 3-D embellishments. Thematically, it was a cohesive collection.
This, however, did not mean it was a particularly inspiring one. Neater embellishments and better finishing could have certainly helped things along. A cancan, for instance, is meant to add flounce to a skirt. A design especially constructed so that the cancan dangles several inches below the hemline didn't make sense.
Sundus Talpur: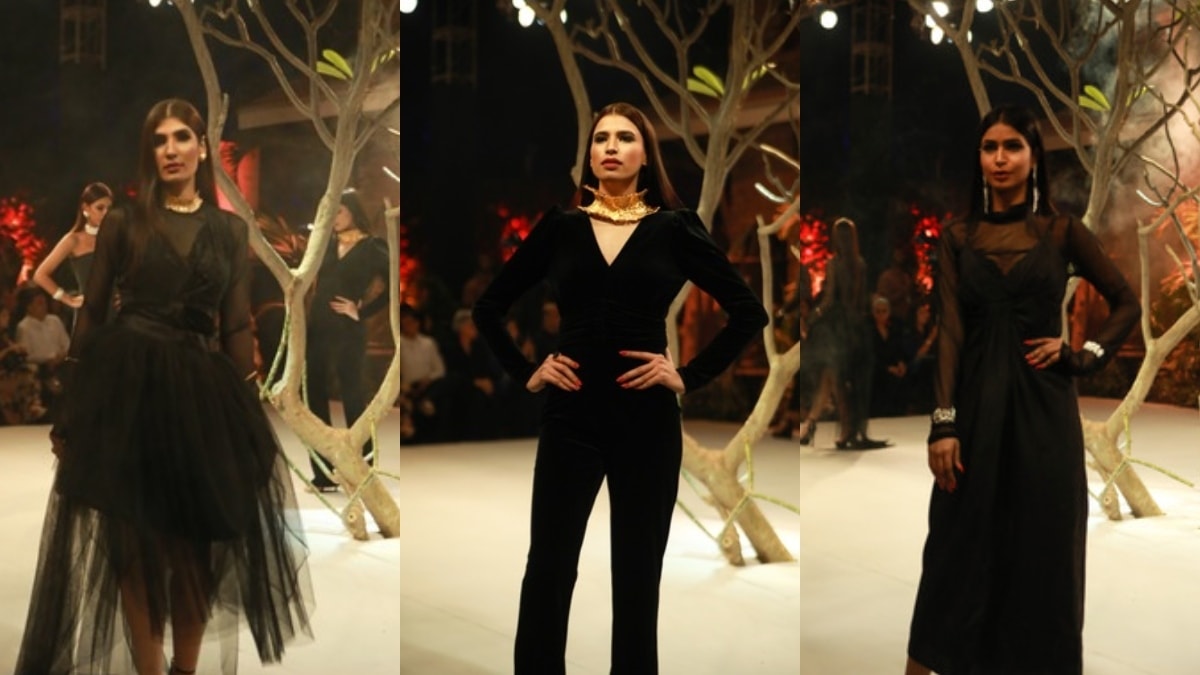 The best collection of the night was the last one. Sundus Talpur's statement jewellery stood out on the all black outfits worn by her models; an oversized choker in beaten gold here, neckpieces sculptured as wound-up chains there, hair accessories and exaggerated funky earrings.
It was a refreshing break from the embroideries and layers of chiffon that have now become mainstays at fashion shows. And it was a sweet ending to the first night of FPW, played out to the tune of a live violin being played from the sidelines.
The Lenny Massey band, in fact, played out live jazz music through the night — very classy, as was the venue. If only the fashion had been predominantly classy too.